New York Holidays – A Simple Guide
New York is a city where every visit is an unforgettable adventure. A city millions of people across the world dream of, it needs no introduction. It is the largest and the most populous city of the United States of America, with profound impact on global commerce, finance, art, media, culture, fashion, research, education, and entertainment. Located on a large natural harbour on the Atlantic coast of the United States, New York hosts landmarks known all across the world.
New York City is like a small universe with amalgamation of people and cultures. Walking between the towering skyscrapers, you feel yourselves in the lap of luxury. You can see why countless people have pinned their dreams on New York, throwing caution to the wind. And New York has fulfilled their dreams as if it knew their aspirations. The city never intends to showcase its affluence and yet, wherever you go, the mark is obvious.
New York City consists of five boroughs – Bronx, Brooklyn, Manhattan, Queens and Staten Island. Every borough has its own sights, sounds and tastes. It is an urban microcosm of the world. Its cosmopolitan diversity means that tourists can feel like home there. They can see the glimpses of their own culture, while learning more about other cultures in ethnic neighborhoods. The city can be termed a huge potpourri of cultural influences.
Holidays in New York can be stupendous. Frankly, one or two weeks are just insufficient to cover this dynamic city. The city has enough to keep bringing you back often and for longer stays.
New York Landmarks – A Simple Guide on Sightseeing
The mega city has an array of world-renowned landmarks. These are places you should just not miss when in New York.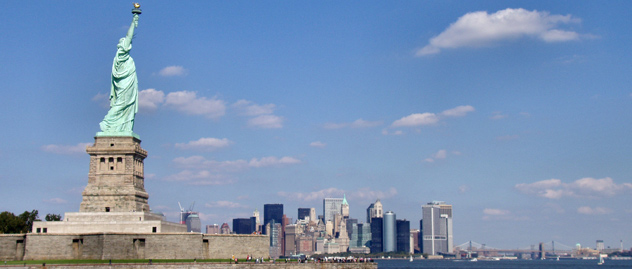 Statue of Liberty
Statue of Liberty has become the symbol of New York. This iconic landmark was constructed in Paris by Bartholdi, a French sculptor. His creation , a gift from France was to mark the centenary of American independence in 1886. Standing tall at the entrance to New York Harbour, it is a masterpiece of the human creative spirit.



Empire State Building
This 102 storey building is located at the intersection of Fifth Avenue and West 34th Street. It held its own as the world's tallest building for more than 40 years, from its completion in 1931 until construction of the World Trade Center's North Tower. It has been named by the American Society of Civil Engineers as one of the Seven Wonders of the Modern World.


Broadway
Broadway, as its name implies, is a wide avenue running through Manhattan. A stretch of Broadway is known as the pinnacle of the American theater industry. Broadway is lined by noted buildings such as Grand Central Hotel, Morgan Stanley Building, Singer Building, Paramount Building, Trinity Church, Winter Garden Theater and Woolworth Building. Theater District in New York is the city's top entertainment draw.


Botanical Garden
One of the oldest botanical gardens in the Unites States, it is also one of the largest. The Botanical Garden features many gardens, horticultural displays in several pavilions, the Haupt Conservatory, and several walking trails. Covering approximate 250 acres, it is the green lung of the metropolis.


Metropolitan Museum of Art
A popular tourist attraction, it has one of the richest treasures in the arts world. Its collection contains more than two million works of art, segregated into several departments. It showcases works of art from classical antiquity and Ancient Egypt, paintings and sculptures from the European masters, and an extensive collection of American and modern art. It also exhibits invaluable holdings of African, Asian, Oceanic, Byzantine, and Islamic art.


Rockfeller Center
Rockefeller Center is famous for its eponymous Christmas tree, as well as its public ice skating rink, but there is much more to this NYC landmark. Opened in 1933, the Center was one of the first building complexes to incorporate artwork throughout, which was symbolic of progress of man on new frontiers. The Center's innovations included heated buildings and the first indoor parking complex.


Times Square
A busy intersection in Manhattan, the Times Square, which centers on 42nd Street and Broadway, is well known for its theaters, cinemas, restaurants and upscale hotels. It is the perfect place to shop for souvenirs. A visit to the Times Square would leave you with an an indelible impression.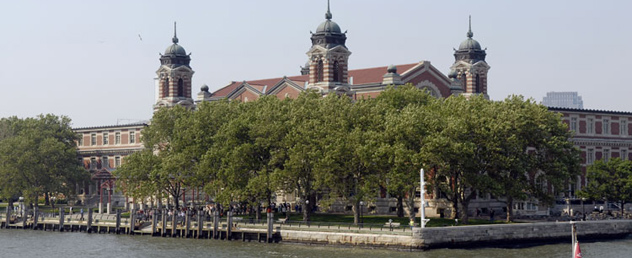 Ellis Island
Ellis Island is a national monument and a fascinating museum, telling the story of the immigrant experience in America. The museum provides a step-by-step description of the immigrants' journey. Tourists can view historical objects, photographs, religious articles, prints, videos, clothes, jewellery, interactive displays, oral histories, etc. One can also watch a theatrical performance about immigration to America.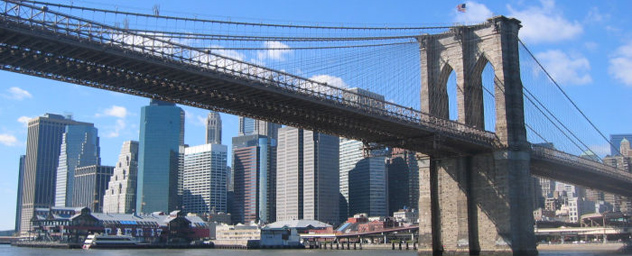 Brooklyn Bridge
One the world's first steel wire suspension bridges, the Brooklyn Bridge connects Lower Manhattan to Brooklyn. Built between 1869 and 1883 by architect John Roebling, it is one of the greatest engineering feats of the 19th century. The bridge also offers stunning views of the city.

A Guide to New York Attractions
New York could be a non-stop holiday party for you. The metropolis has enough assets to keep the visitors engaged.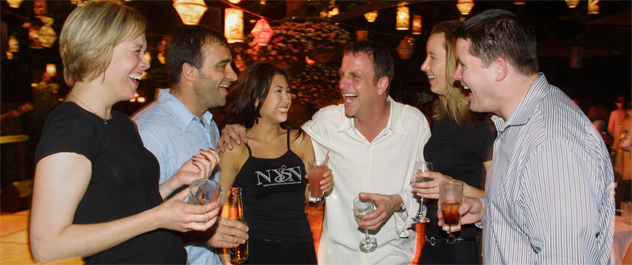 Nightlife
New York has fun-filled nightlife, to put the fact in the simplest possible way. To enjoy your evenings and nights, you can select from theater performances, public concerts, dance clubs, piano bars, karaoke, wine bars, discotheques, comedy clubs, cabarets, pubs, and chamber music venues. Variety of music is just astounding. One can choose from a variety of music such as Alternative Rock, Punk, Jazz, Country, Disco, Electronica, Folk, Gospel and much more and these events can be found all across the metropolis. Downtown Manhattan hosts several chic music clubs, bars, restaurants, lounges and dance clubs are located at Downtown Manhattan. East of Broadway region is famous for its small rock and new-music venues; you'll find also Latino-DJs bars. Lower East Side offers a similar nightlife scene with its rock taverns. Greenwich Village, West Village, Brooklyn and Meatpacking District host several trendy bars, restaurants, and clubs.


Beaches
Beaches are not the first thing which comes to mind when you think of New York. However, the city does have several fine beaches. Long Island beaches are quite good to pass some gala time with your family and friends. The most famous Long Island beach is the Hamptons, which offers visitors a slew of outdoor activities including boating, fishing, sunbathing and more. There are several natural parks too where visitors can enjoy local fauna and flora.

Jones Beach is a six mile stretch which attracts the millions of visitors per year. The beach is one of the most popular summer recreational spots for New York. The outdoor marine theatre is known for its concert series during summer season.

Coney Island, another beach on the Atlantic, is another favourite summer spot for the New Yorkers. It is in fact a recreational park teeming with restaurants and other traditional attractions. It also hosts an aquarium, a cyclone roller-coaster, freak shows and carnival rides. Famous Mermaid Parade, held every year to celebrate the beginning of the summer season, is held at Coney Island.


Shopping
In New York, you can buy almost anything. The city is nothing less than a paradise for shopaholics. New York has enough outlets to keep even the most enthusiastic shopper busy. The trendiest boutiques sit through Fifth Avenue, Madison Avenue and the Lower East Side. East Village offers a more trendy shopping experience with eclectic music stores, vintage shops and designer boutiques.

Top designers and world-renowned fashion names such as Tiffany & Co, Cartier, Gucci, Louis Vuitton, Bergdorf Men, and Versace are just a few that are located at the Fifth Avenue Shopping District and Madison Avenue. For purchasing inexpensive gifts as souvenirs, Chinatown is a fabulous place. In Greenwich Village, you can find renowned antiques dealers. At Union Square, you would find many markets selling natural products on selective days.


Culinary Delights
A multi-cultural metropolis, New York ensures everyone returns satisfied. Restaurants here offer almost every ethnic dish as well as Continental food. Vegetarians would love visiting New York for there are hundreds of restaurants which offer veg dishes. Food stalls are available all across New York. Street food in New York is just exquisite, mainly consisting of pizzas, fried noodles, kebabs, hamburgers, hot dogs, roasted peanuts, muffins, grilled chestnuts, bagels, pretzels etc. For high end restaurants, visit Brooklyn, SoHo, East Village, Upper West Side and Times Square. For best Chinese cuisine, visit Chinatown.


Art and Theatre
New York is a happening place when it comes to art and theatres. There are scores of theatres where the artists give expression to their creativity. Some world-famous New York theatres are Broadway Theater, Metropolitan Opera House, Carnegie Hall, Radio City Music Hall, Ambassador Theater, August Wilson Theater, Imperial Theater and Majestic Theater. Museums and art galleries in New York also contribute to art scene.

New York Transport

Air
New York is served by three airports – LaGuardia, JFK and Newark. Major carriers serving New York City are American Airlines, United Airlines, Delta, Continental and British Airways. For airport transfer, you can use buses or cabs. Buses leave from airports every half an hour, so if you want to save on money, it would be a good option.

Subway - Subway is the fastest and most reliable way to go around New York, especially when most of Manhattan's sights are on its lines. For riding the subway, you need to purchase a Metrocard which is available in all subway stations. With this card, you can ride the city buses too. Free subway and bus maps are also available at stations.
Buses - City buses run across New York round the clock. The buses have lighted signs at the front showing their routes.. Route maps and schedules are posted at the bus stops. As for the ticket, you should use the Metro card, same as the subway. If you are using cash, keep the exact change.
Taxi Cabs & Car Rentals - Hire a taxi to get around the city to avoid the hassle with the subway or buses. Though they are expensive, they would drop you right at your destination. You can hail taxis right from the street. All taxis are metered and you should be able to get the printed receipt. You have to pay the taxi driver in cash, so be prepared.
As for the cars, you can avail the services of all world-renowned car rental companies. However, be ready to shell out more in exchange for more comfort.
New York Weather
New York has its summer from June to September. The climate in these months is warm but one can see tropical storms too. Winter is cold with occasional snowfalls. However, with the sea at neighbourhood, the climate is never too cold. The best time to visit New York is autumn, when temperature is mild and days are sunny. Average temperature of the city is 13°C. When visiting New York, be sure to pack clothes appropriate for the season.